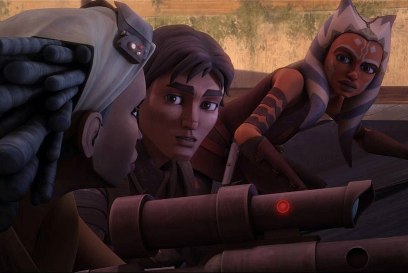 This year Fangirlblog hosted a
special fourth part of the Season in Review
, reflecting on The Clone Wars after five seasons and an abrupt cancellation. I've
expressed before
that I don't mind The Clone Wars ending, but there are plenty of characters whose fates have not been revealed, and in the roundtable Tricia, Lex and I express our own ideas about future stories for Ahsoka and company.
The ending of the show was especially interesting to me because I started out as an Ahsoka detractor. I first resigned myself to the way the show was structured around her, and then became a big fan of voice actor Ashley Eckstein's interaction with the fan community, especially women and girls.
I'm not sure how the show could have gone on without Ahsoka – which is a strange thing to say for someone who thought she was unnecessary all along, but she became an important part of the way the writers handled the show. She's an addition to the dynamic between Obi-Wan and Anakin, and a young female face who is meant to be relatable for the fans. She was a focus, and the show would have had to change drastically without her, so her departure from the Jedi order was an appropriate ending for The Clone Wars.