This week I picked up
Darth Maul: Death Sentence
and noticed
The Clone Wars: The Sith Hunters
on the shelf too, so it's a Darth Maul double feature this week. Both are quite entertaining:
The Sith Hunters
starts off immediately where season four of
The Clone Wars
ended, and the characterization in both books pretty much matches what we've seen on the show. That means that I'm not completely happy with it, but with some more space in which to move the books start on a road that explores that characterization. Further issues of
Death Sentence,
penned by the witty Tom Taylor, will presumably follow that trend.
Death Sentence
#2 is available today, August 29.
These reviews may contain spoilers for both comics as well as
Invasion
.
The comic:
The Clone Wars: The Sith Hunters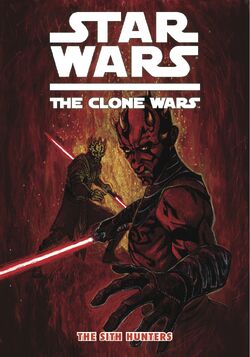 The story:
Maul's post-
The Phantom Menace
backstory is revealed in between a plot about Maul and Savage trying to find a place to live. The Jedi are tracking them all the way.
The art:
Maul looks more like Ray Park in some scenes than he does in
The Clone Wars
, but a lot of the art feels cursory. Detail gets lost in background scenes. Except for some silly character design - a shirtless Jedi who specializes in martial arts seems out of place - the action scenes are entertaining and easy to follow.
The female characters:
The Sith Hunters
introduces the heir of the Kozinargh trade guild, who at the time of writing seems to be unnamed. The Sith brothers happen to rescue her from a cell, and Darth Maul thinks that her family's fortune is a good enough reason to keep her alive. She's not exactly a
MacGuffin
, but lack of dialogue at key points means that it's hard to see her as a character with her own motivation either. Her desire to regain her family fortune from her brother regardless of whether it takes his death seems to indicate a vicious (or at least pragmatic) streak - she mourns over her dead pet but is not shown reacting to her brother's body. Afterward, though, she remains almost silent, offering help to the Jedi as easily as to the Sith. She could be frightened into silence, caught between all these Force users, but we don't really know.
The immediate chronological tie to
The Clone Wars
means we get to see some more of Asajj Ventress and details some of her awkward spaceship ride with Obi-Wan. They're very in-character, which of course means bantering, and she walks away with an insistence that she isn't on anybody's side.