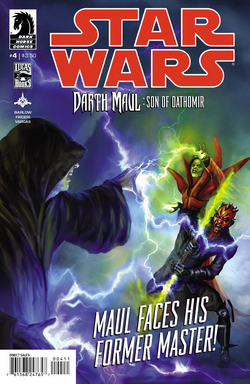 Improved art and a plot-driven story make Son of Dathomir #4 an exciting ending to the post-Clone Wars story.
This review is spoiler-free.
The art has been growing on me steadily throughout the comic's run. Color was used to set scenes in previous issues, but seems amped up here. A red and orange sunset to match Darth Maul's Nightbrothers contrasts with the cool green of Talzin's alter. In this, as in the writing in #4, the creators trust the reader to keep up. Scenes and colors switch quickly and keep the story moving toward the inevitable ending - an all-out fight between five bad guys.
The art also helps sell the relationship between Darth Maul and Mother Talzin. He follows her blindly, and overall I would have liked more about the source of this loyalty - familial fondness made stronger by Savage's death, or a feeling that he owes her for saving his life? However, one panel toward the end makes me believe that relationship, no matter what it was built on, and that's because of the strength of the art.